Top Ten Tuesday is an original feature/weekly meme hosted by The Broke and the Bookish, it was created because of their love of lists and all things bookish. There are different lists every week. It has literally been months since my last Top Ten Tuesday. I'll try to do this every Tuesday but – honestly – don't hold your breath.
---
This wonderful Tuesday (I'm on school break!) the topic is Last Ten Books That Came Into My Possession (bought, library, review copies). I haven't bought many books recently but I have received quite a few for review purposes.
If you click the covers, you'll be sent to their respective goodreads pages.
Without further ado I present to you…
The Single Game by Amanda Black
I got an ARC of this from the author just a few hours ago. It's a new adult love story about first love and a whole lot of other firsts. 😉
---
Anya and the Shy Guy by Suze Winegardner
I got this ARC from Entangled Teen Publishing to review. This is the fourth book in the Backstage Pass series; all the books in this series can be read as standalones. I read the second book a while back and it was fun, so I'm looking forward to reading about the quiet one in the band.
---
The Fixer by Jennifer Lynn Barnes
I have this on my Kindle, I really want a physical copy of this, though. Anyways, this should be good considering how I loved every Jennifer Lynn Barnes book I read. This one has teen drama, secrets, love triangles, and politics. Sounds like an interesting mix.
---
Supervision by Alison Stine
Got this from NetGalley, not an ARC but the blurb was intriguing so I thought I'd give it a shot.
A lonely New York teen is thrown into small-town life when she's sent to live with her grandmother in Pennsylvania; she finds solace in the friends she makes, but something is wrong: her friends are dead, and she might be too.
---
I got this book (paperback) at half price at BookXcess a few weeks ago (I think) and hopped right on it when I got home (because it is Jennifer L. Armentrout, people). I must say I wasn't disappointed, all my expectations were met. Cliches, check; swoon worthy guy, check; cute love story, check. Honestly, it's your typical NA book but there are times when you need a little cheesiness in your life; times like those, you grab this book.
---
Solitaire by Alice Oseman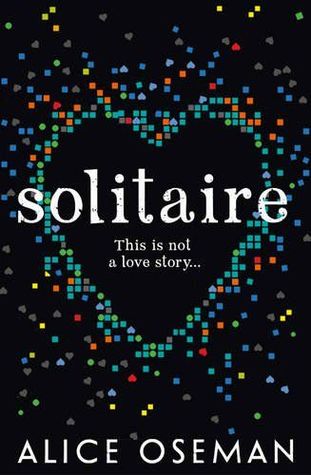 I saw this book at BookXcess too and it struck me that it was extremely familiar, like I had definitely seen it somewhere (I still have no idea where, though). My mom was getting some stuff done so I had time to read it at the bookstore and it had me hooked. But… for some reason I stopped reading it. I am a hundred percent sure it has nothing to do with the book because I really enjoyed it; not your typical YA read. I'm really hoping to get back in the mood for this book soon.
---
Significance by Shelly Crane
I got this review copy off NetGalley too… It has got this whole soulmate concept going on and it's a TV show in the making. You can check out further details here.
---
Eleven Weeks by Lauren K. McKellar
Another review copy from the author.
---
The Memory Game by Sharon Sant
This is a book with… wait for it.. ghosts! I was actually on the look out for a non-scary ghost book when I came across this on NetGalley which made being approved 10 times better. If you want to know, this book is about David, a teenager who dies at the age of fifteen but can't seem to move on. The only person who can see him is Bethany, the girl he spent his living days bullying. Just thinking about it makes me feel like dashing to my tab and devouring it.
---
Pisces by Rachel Medhurst
Another soulmate book. Yay!!
Do I even need to tell you where and how I got this? I think not…
---
So that's it for this week's Top Ten Tuesday. Looking back at my list of books it seems like I've been very dependent on NetGalley for my latest possessions (what would I do without NetGalley?). Let me know in the comments if any of the books above catches your eye or perhaps you have read them? Also, I would love to check out your Top Ten Tuesday so be sure to leave a link. Have a bookish day and hugs! ❤