Top Ten Tuesday is an original feature/weekly meme hosted by The Broke and the Bookish, it was created because of their love of lists and all things bookish. There are different lists every week and you can check out the topics on their website, they post some of them beforehand.
---
We're only 2 weeks (give or take) away from a new year and a fresh start. To commemorate, this week's topic is all about the books of 2015. Be it released in 2015 or not. I'm going with the top ten books I've read this year, regardless of the publication dates.
On with it…
The Naturals by Jennifer Lynn Barnes
This is a book you should catch if you want a break from Paranormal YA. This is the first YA book I've read that takes on an FBI theme. This book will make you get into people's heads and think like a killer. In other words, profiling, which can be creepy at times and  interesting at others.
Fans of Criminal Minds, take my word for it: this is a must read.
---
Eleanor and Park by Rainbow Rowell
I don't think this book requires much introduction, if any.
All I can say if you haven't read it, then do so with a warning that the ending will leave you unsettled for a long, long time.
---
Gathering Darkness by Morgan Rhodes
This is the third book in the Falling Kingdoms series and by far the best. It has left me eagerly awaiting it's sequel, Frozen Tides.
Funny story: I was checking on Goodreads for Gathering Darkness' info, so I thought I'd check Frozen Tides' release date while I'm at it. When I saw the date I was like "Ahhhh!!! Oh my God!", really loud and my mom who was reading on the couch beside me fell over backwards on it and went "what the hell?!!". You should have been here to see it, priceless I tell you.
FROZEN TIDES RELEASES TODAY OMG OMG OMG
---
Between Now and Never by Laura Johnston
You can check out my review of it here.
---
Shadow and Bone by Leigh Bardugo
I have so many fond memories of this book, from reading it to fangirling with other readers over it. I couldn't think straight by the end of this book.
---
Anya and the Shy Guy by Suze Winegardner
If you've read my review of this book you'll know exactly how much I enjoyed it.
---
Splintered by AG Howard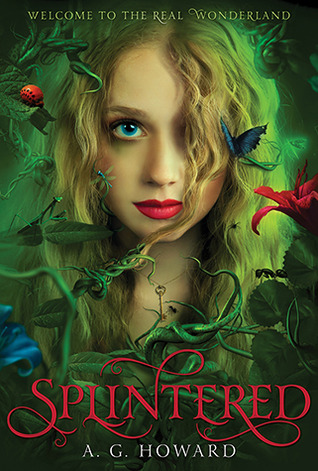 A whimsical, magical take on Alice's Adventures in Wonderland. Review here.
---
The Wrath and the Dawn by Renee Ahdieh
Hands down my favorite read this year. I'm just not too happy about the ending, basically because I have to wait half year for answers.
---
So, that's it! I am aware that that's only 8 books but those are the books I feel are really the highlight of the year. Due to exams I only managed to read 50+ books and the books I feel will really blow me away I have yet to read. But now, hehehe, now I can read them. 😀
Have you read any of these books? Did any of them make it on your Top Ten Tuesday this week? Talk to me in the comments! Also, include a link to your TTT so I can check it out. Have a bookish day! ❤